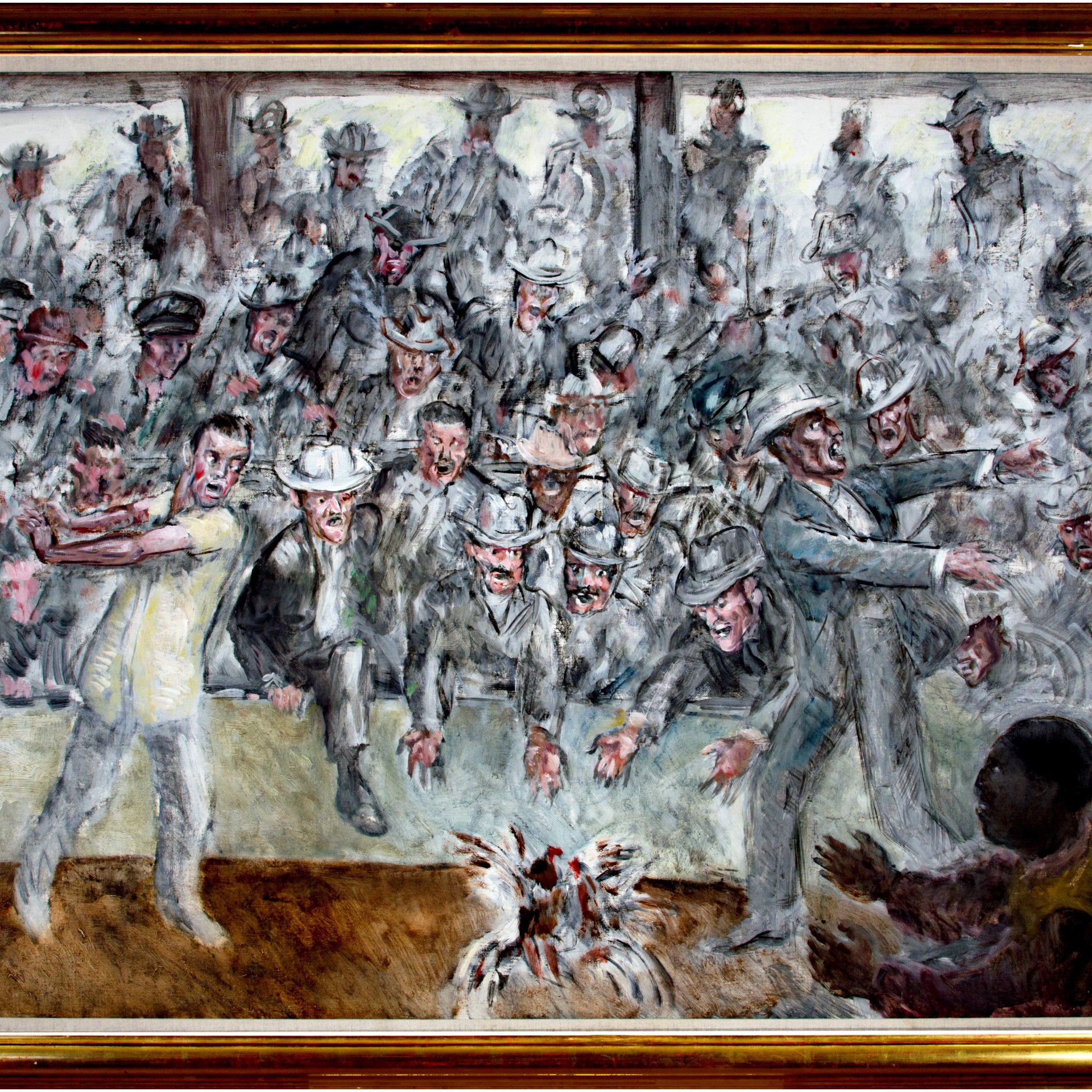 Born in Dunavant, Kansas on November 14, 1897, John Steuart Curry became the youngest member of the famed "Benton-Wood-Curry trio" of Regional Painters of the early 20th-century American Scene movement. He gained national reputation for his Kansas rural scenes of people terrorized by natural phenomena such as tornadoes, drab farm-house living conditions, religious gatherings such as prayer meeting and baptisms, and spirited animals who got out of control. A good example of his weather-related painting was Tornado Over Kansas, 1929, in the collection of the Muskegon Museum of Art in Muskegon, Michigan. In this scene, a family scurries for shelter, trying to outrun a funnel cloud headed for their home. The mother carries her baby, and the children rescue pets and toys. It was later said that Curry never directly experienced a tornado but had many scares from them as a child when his family, faced with frightening skies, made frequent trips to their fruit cellar.
In 1933, Tornado Over Kansas received second prize at the Carnegie International Exhibit. He was especially focused on people who were down-to-earth, plain spoken and who were self reliantly making a living through hard physical labor challenged by harsh weather. In many of his paintings, he showed his disdain for racial discrimination and hatred, something he believed was psychologically poisonous. He did many murals dealing with land settlement and racial justice, and his murals reflecting these themes are in the Capitol Building in Kansas, the University of Wisconsin, the United States Department of the Interior, and the United States Department of Justice in Washington D.C. Curry was a descendant of many generations of farmers, whose American ancestors originally were from Scotland. Some of them immigrated to South Carolina, and later followed "the line of the frontier into the Mississippi Valley."
The first born of five children, Curry said of his childhood: "I was raised on hard work and the shorter catechism---Up at four o'clock the year round, doing half a day's work before we rode to town on horseback to our lessons." From a young age, he was constantly drawing, an activity encouraged by his mother, who arranged art lessons for him from age 12. She also gave him his first glimpse of the Old Master painters through reproductions of their work she had collected on her honeymoon. Never of the studious nature, Curry quit the county high school in Winchester, Kansas and spent that summer as a railroad section-hand. His earnings provided him with enough money to buy a suit of clothes so that he could go to Kansas City and attend the Art Institute. A month later he moved to the Art Institute of Chicago, and remained there for two years, supporting himself by sweeping floors and acting as a bus-boy in the cafeteria.
Upon America's declaration of war, Curry went to training camp, only to be sent home when it was discovered that he was still under age. In 1918 he enrolled at Geneva College, played football for two seasons, and spent the following five years training to earn his money as an illustrator of "blood-and-thunder" scenes for a popular western story magazine. In this capacity, he worked for illustrator Harvey Dunn in New Jersey from 1919 to 1926. He married and then persuaded art patron Seward Prosser to loan him $1000.00 which he used to study for one year in Paris in 1927. The year in Europe, which included study at the Academy Julian, reinforced his independent nature. He was much more impressed by the paintings of Rembrandt and Rubens than by the modernist American painters, many whom were adopting the 'isms' of abstract styles of French contemporary artists such as Pablo Picasso's Cubism and Max Ernst's Surrealism. Curry determined to paint American subjects without European models and to celebrate American patriotism and regional pride rather than lofty, remote ideals espoused by the academics. He returned to America penniless, and settling in Westport, Connecticut, swore that he would turn out a worthwhile picture or give up painting entirely.
There in 1928 from memory he painted his first picture that became famous, Baptism in Kansas. Gertrude Vanderbilt Whitney bought it for her museum and subsidized him for two years at $50 a week. Baptism in Kansas was heralded nationally as work of a new American genre, but fellow Kansans were not impressed until much later when they realized the scope of his recognition. Purchased by Gertrude Vanderbilt Whitney, one of his key benefactors, Baptism launched his career as a regionalist. In 1930, he had his first one-man exhibition, held at the Whitney Studio Club, and was received enthusiastically by critics. Although he lived primarily in the East, he returned often to Kansas where he stayed at his parents' farm and sketched rural-life scenes. His first wife died, and he gave up his studio in Westport, and secluded himself in a drab New York City studio. He taught at the Cooper Union and the Art Students' League, and held a show of circus studies after touring New England with Ringling Bros.-Barnum & Bailey Circus. This tour and the resulting circus sketches and watercolors were inspired from his attendance in Kansas at many rural county fairs. Reportedly the circus people said they liked Curry but "quibbled over minor technical errors in his series of circus paintings."
In 1934 he married Kathleen Shepard, returned to Westport, recovered his old enthusiasm, and painted one of his most famous paintings, Line Storm. Westport beginning to appreciate him, commissioned him to do a double mural for the local high school. Additionally, the United States government selected him to paint murals for the Department of Justice and the Department of Interior buildings in Washington, D.C. He was appointed Artist-in-Residence in the College of Agriculture, University of Wisconsin, in 1936. At $4,000 a year he had his studio on the campus, where he could mingle with students, but he conducted no formal classes. Curry also traveled occasionally to Arizona where he visited his parents who had a second home there and spent their winters. The Marianna Kistler Beach Museum of Art in Manhattan, Kansas, is the repository of the Curry archives including many paintings. According to Bill North, the Museum's Senior Curator, Curry "did produce a number of paintings and watercolors with Arizona subjects, some, certainly prior to 1940. Relatively little is known about this aspect of his life and work. I assume that many, if not all of Curry's Arizona paintings were produced in his studio at home from drawings he made while in Arizona. It's possible that some of the watercolors were executed in Arizona." Curry always tried to instill "community appreciation of art" wherever he went. Kansas long neglected its native sun during his life, but did commission him to do a series of murals for its state capitol in Topeka, for $20,000. He was a member of the Art Students' League and won numerous prizes including; Purchase prize, North West Print Maker, fifth annual Exhibition, 1933; second prize, Thirty-first International Exhibition, Carnegie Institute, 1933; gold medal, PAFA, 1941; prize ($3,000), Artists for Victory Exhibition, Metropolitan Museum of Art, 1941 and others. He died in Madison, Wisconsin in 1946.
Read More