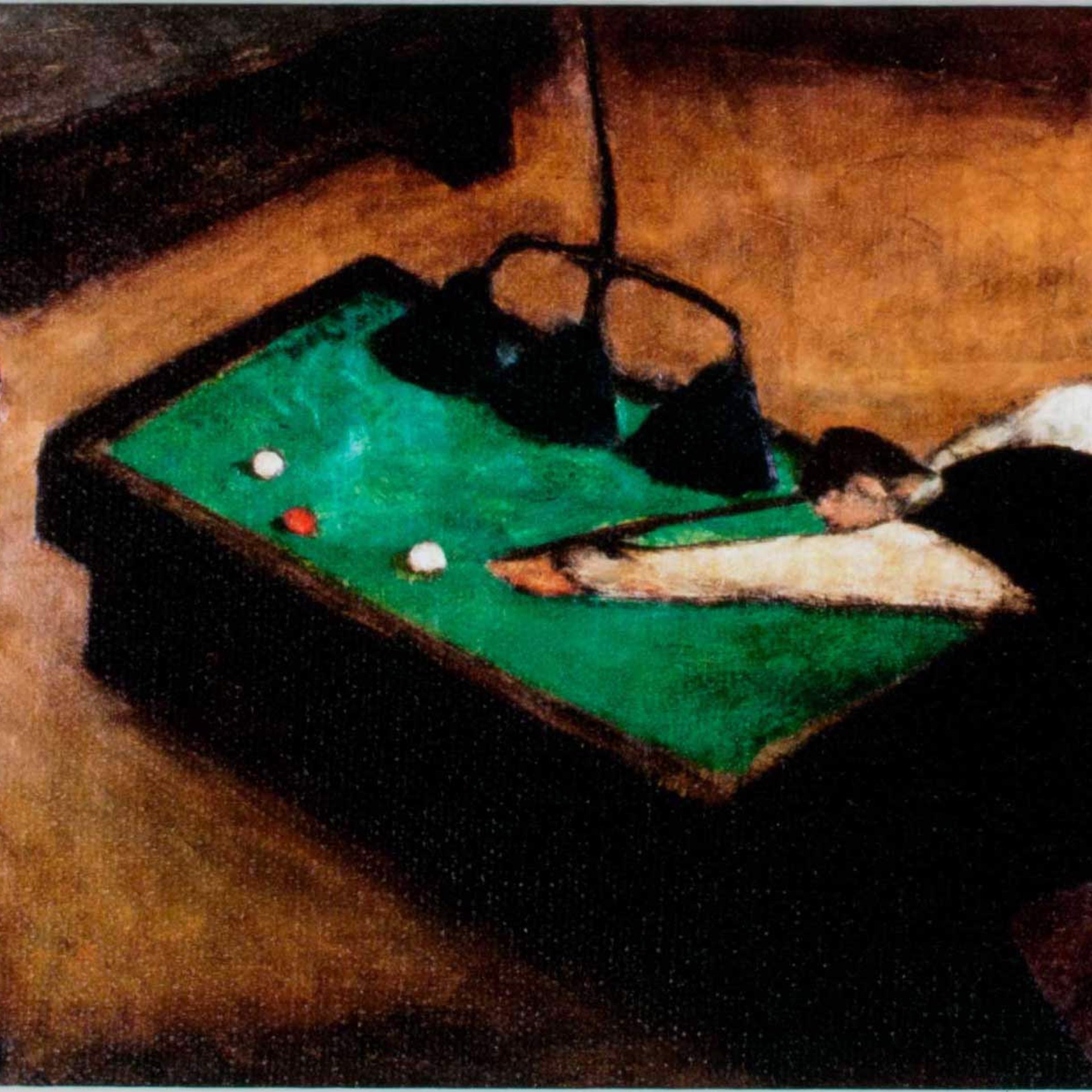 An American Modern Painter, the son of a tanner, Milton Avery was born in 1885 in Altmar, New York. His family moved to Connecticut in 1898, when Avery was 13, and at the age of 16, he began working at a local factory. This was the beginning of a series of blue-collar jobs Avery would use to support himself for decades. The death of his brother-in-law in 1915 left Avery as the sole remaining adult male in his household, responsible for the support of nine female relatives. By 1917 Avery was working nights in order to attend classes at the Connecticut League of Art Students in Hartford by day (having enrolled sometime between 1905 and 1911). Avery's landscapes and seascapes of the early 1920s use the heavy impasto, light palette, and atmospheric mistiness of the American Impressionists Ernest Lawson and John Henry Twachtman. In 1925, Avery moved to New York City where Avery practiced painting and drawing at the Art Students League of New York. This is where he met Sally Michel, a young art student, and they married in 1926; her income as an illustrator enabled him to devote himself more fully to painting. It was in New York where Avery saw the most growth in his artwork. Well, he painted in obscurity, he was also becoming aware of artists such as Matisse and Albert Pinkman Ryder. This is also when we see Avery's color palette evolve from a subdued, dark essence to the bright and luminous colors he is recognized for today. Roy Neuberger saw his work and thought he deserved recognition. Determined to get the world to know and respect Avery's work, Neuberger bought over 100 of his paintings, starting with Gaspé Landscape, and lent or donated them to museums all over the world. With the work of Milton Avery rotating through high-profile museums, he came to be a highly respected and successful painter.
As a man, Milton Avery exuded conviction, determination, and self-control. His entire life he never reached a level of financial stability that would permit leisure. He worked tirelessly at his art believing that one could only grow from experience and he never accepted "artist's block". His work, with its emphasis on color, was important to many younger artists, particularly to Mark Rothko, Adolph Gottlieb, Barnett Newman, Helen Frankenthaler, and other Color Field painters. The Phillips Collection in Washington, D.C. was the first museum to purchase one of Avery's paintings in 1929; this museum also gave him his first solo museum exhibition in 1944. Avery was a man of few words. "Why talk when you can paint?" he often quipped to his wife. Their daughter, March Avery, is also a painter.
Like many artists, significant life events are expressed in his artwork and process. In 1949 Avery suffered a massive heart attack. The recovery time was long, but during this time he mastered his use of the monoprint medium. Once he recovered he returned to his work with a renewed vigor all culminating in what Art Historians consider to be his most refined, surprising and yet subtly works. The White Wave, 1954 is held as a crowning example of Avery's later work. Milton Avery is buried in Artists Cemetery, Woodstock, Ulster County, New York. After his death in 1965, his widow, Sally Avery, donated the artist's personal papers to the Archives of American Art, a research center of the Smithsonian Institution. In 2007, the Archives optically scanned these papers and made them available to researchers as the Milton Avery Papers Online.
Avery's work is seminal to American abstract painting while his work is clearly representational, it focuses on color relations and is not concerned with creating the illusion of depth as most conventional Western painting since the Renaissance has. Although Avery's art became increasingly abstract, he never abandoned representational subject matter, painting figure groups, still life, landscapes, and seascapes. His mature style, developed by the mid-1940s, is characterized by a reduction of elements to their essential forms, elimination of detail, and surface patterns of flattened shapes, filled with arbitrary color in the manner of Matisse. especially because of his colorful and innovative landscape paintings. His poetic, bold, and creative use of drawing and color set him apart from more conventional paintings of his era.
Avery was often thought of as an American Matisse.
Read More