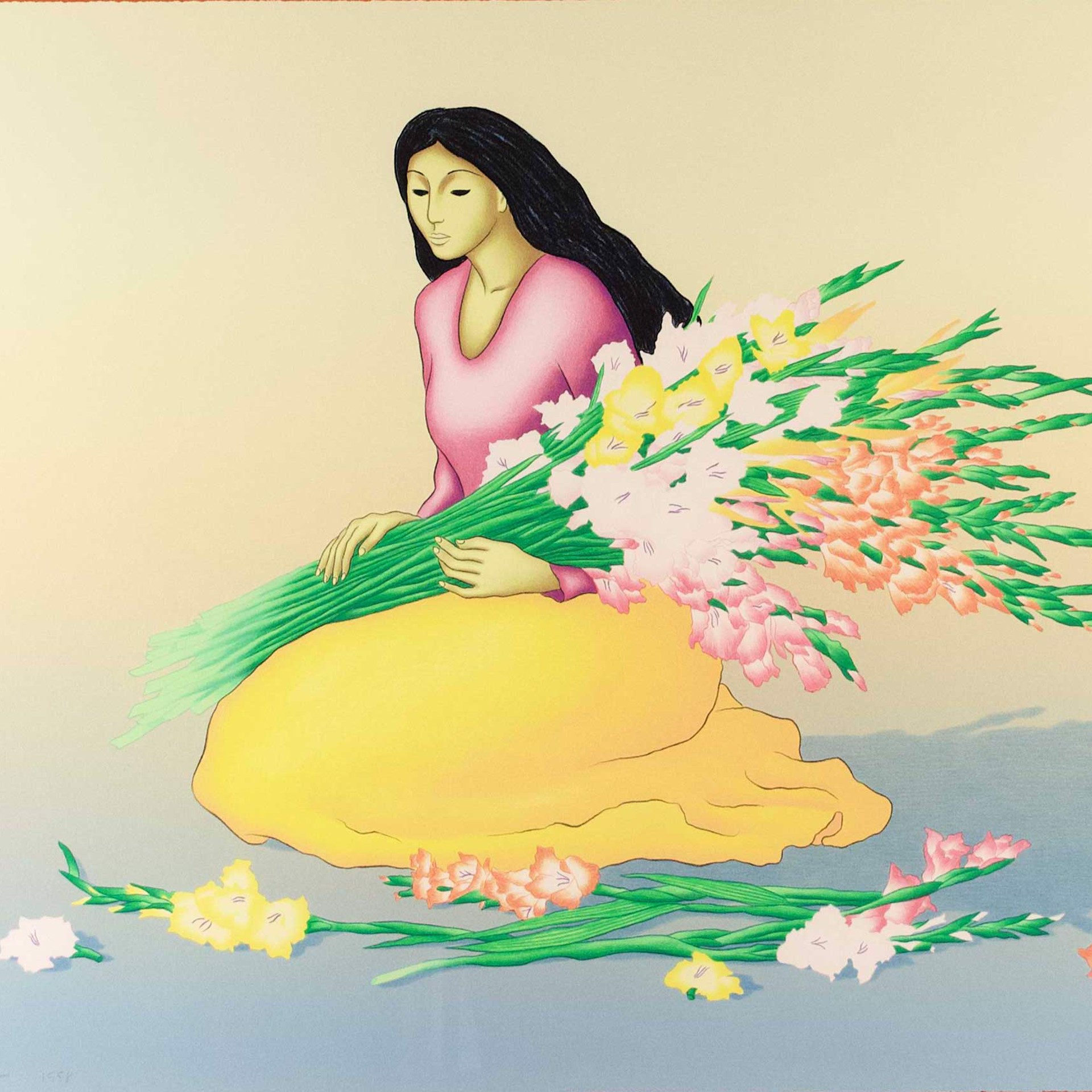 Referred to as "the Picasso of American Indian artists" by The New York Times, Rudolph Carl Gorman was a Native American artist of the Navajo Nation. R. C. Gorman grew up in a traditional Navajo Hogan, and began drawing at age 3. His father, Carl, was one of the original twenty-nine Navajo Code Talkers who, along with his colleagues, developed the unbreakable code American forces used in the Pacific Theater during World War II.
R. C. Gorman paintings are primarily of Native American women and characterized by fluid forms and vibrant colors, though he also worked in sculpture, ceramics, and stone lithography. Gorman had no bonds to this style. He was unique. He experimented randomly. He spent a Bohemian year studying at Mexico City College, now known as the University of the Americas. Gorman thrived under the influence of the Mexican masters: Orozco, Rivera, Siqueiros, and Tamayo.
Gorman says he never mastered Spanish in Mexico (he actually knows more than he claims), but returned speaking broken English instead. "English is still my second language. Navajo is where it's at."
After Mexico, Gorman moved to San Francisco and established his first studio. Then moving from California to New Mexico, opening the Navajo Gallery in Taos in 1968. It was the first Native American-owned art gallery.
"I was born near Canyon de Chelly in Arizona and spent my early years living close to nature and Navajo tradition. My family was rich in artistic talent and creative spirit, but not in material possessions. I have been fortunate to live and work in the beautiful Taos Valley, an environment also rich in artistry and tradition. The spirit of Taos has encouraged and inspired me, and my focus as an artist matured here. I'm truly grateful to my friends, drinking buddies, family, patrons, and my loyal staff—all of whom have made my way of life here possible. Thanks for sharing the light." - R.C. Gorman in 1998
Read More