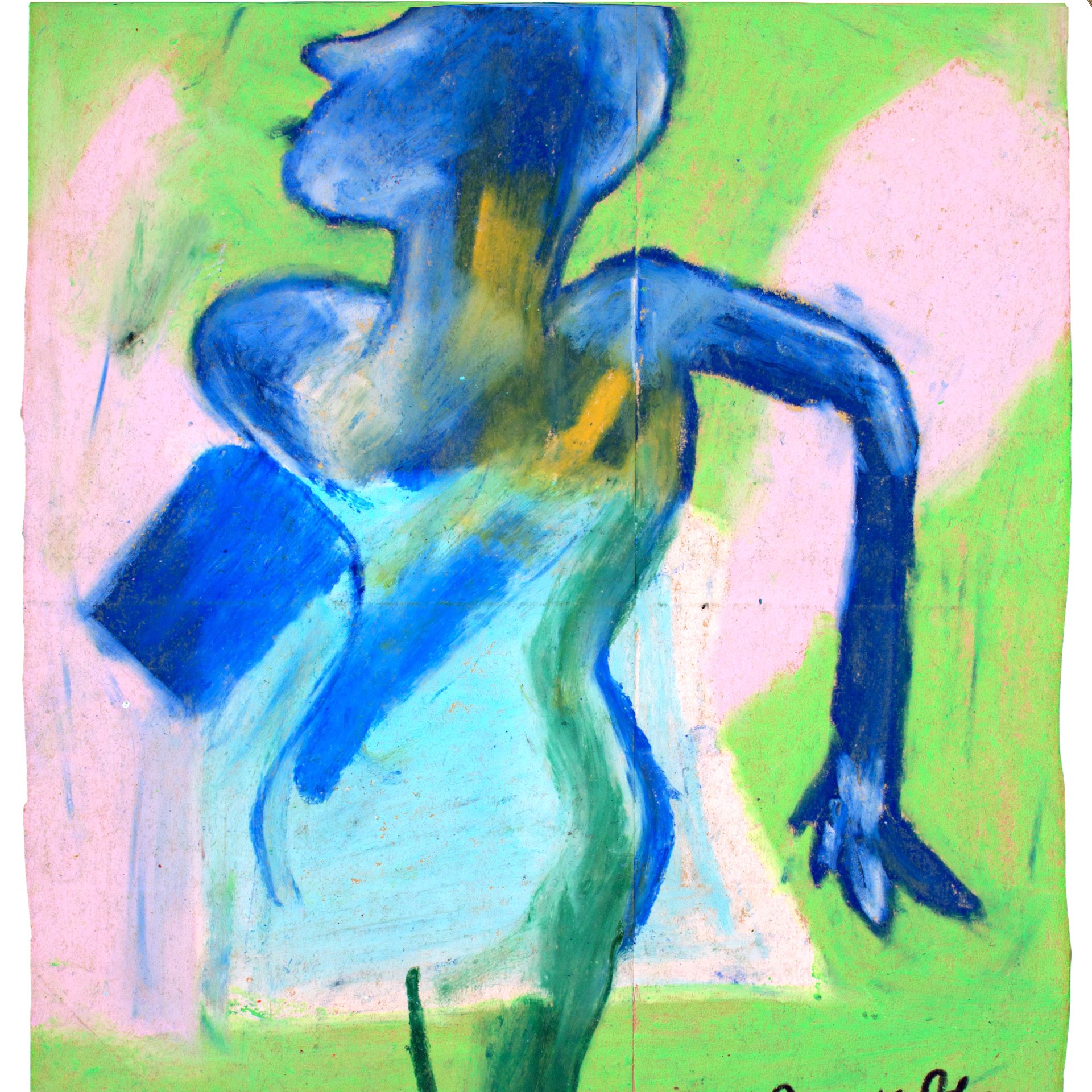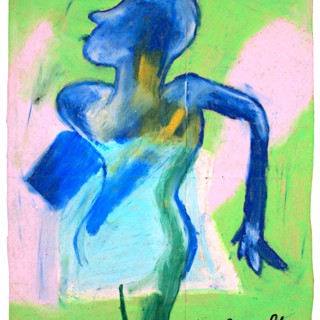 Milwaukee-based artist Reginald K. Gee is known for his visionary Neo-Expressionist style. Born in Milwaukee in 1964 to Native American and African American parents, he is an emerging tour de force in the contemporary and outsider art scenes.
Gee's interpretation of subject matter is unique, inventive and illustrates his command of expression in form, color and language. In his images, he explores a wide range of themes and subjects, including playful musicians, surreal vistas, mystical dreams and fantastic visions. He borrows from his heritage as an African American as well as a Native American, incorporating historical images, symbols, and numerology into his artwork. At the same time, Gee's paintings are figurative, abstract and narrative, expressing through the use of uninhibited color the artist's views of contemporary society. When asked how he learned about art Gee replied, "I didn't. I still haven't learned. You just do it." The Milwaukee Journal Sentinel described Gee's work as "tribal art-derived from Pop Culture and art magazines."
In recent years, Gee has participated in dozens of shows including Soul of Black Folk and the Chicago Black Art Expo. Gee is influenced by Pablo Picasso, Willem De Kooning, Francis Bacon, Jean Michel Basquiat and David Salle.
Exhibitions
David Barnett Gallery, Milwaukee, Wisconsin, 2005
Smithsonian Institute, Washington D.C., 2002
National Black Fine Art Show, New York, New York, 1999
Outsider Art Fair, New York, New York, 1996 - 1999
David Barnett Gallery, Milwaukee, Wisconsin, 1999
Baltimore Folk & Visionary Art Show, Baltimore, Maryland, 1998
Folk Art Fest, Atlanta, Georgia, 1996 - 1998
Union Gallery, University of Wisconsin, Milwaukee, Wisconsin 1996
Liz Blackman Gallery, Los Angeles, California, 1995
Milwaukee Public Museum, Milwaukee, Wisconsin, 1993
Marquette University Haggerty Museum, Milwaukee, Wisconsin, 1992
Cudahy Gallery of Wisconsin Art, Milwaukee Art Museum, 1990
Artist's Statement
"In the Spring of 1964, I was born to hard working parents of Nigritic and (Blackfoot and Cherokee) Indian descent in Milwaukee, Wisconsin. The youngest of three, I began drawing around the age of four. My sister and brother were artistically inclined, so any real hesitation for me to go forth in the visual aspect was pretty minimal. During school years I found it an adventure to entertain comrades and instructor by conjuring images with pencil, including a notebook comic strip call Lunkhead. My late teens were near dormant, but turning twenty-one, I felt a renewed urgency to become serious about art as a possible vehicle. Searching through magazines and books that featured visual arts convinced me to go ahead and use whatever weapon it was I'd been dabbling with for so long. To get satisfied with a portfolio of strong work I felt could match the stuff in the art texts took about thirty months, and it was more fun than, work, exploring options and influences. At an outdoor arts festival in 1986, I got a chance to show a few pieces. It felt nice. Later on, a particular man at a studio shot a set of slides of my work and gave me two extra sets, no charge. Galleries and museums followed and I discovered again that people are grateful to see colorful images reflecting life, or fictional scenes done with taste; I being one of those people. The thrust to "do" art comes from every direction in my case, be it curiosity, pleasure-seek, boredom, anger, desperation, all emotions put to use. My being here, blessed with an ability to make someone think, giggle, or at least smile, is genuine reward...or priceless fuel."
Read More